Offerte di Lavoro / Stages
ICE DATA SERVICES - INTERACTIVE DATA KLER'S S.r.l.
Presentazione Aziendale e Colloqui di Selezione. 16 marzo 2018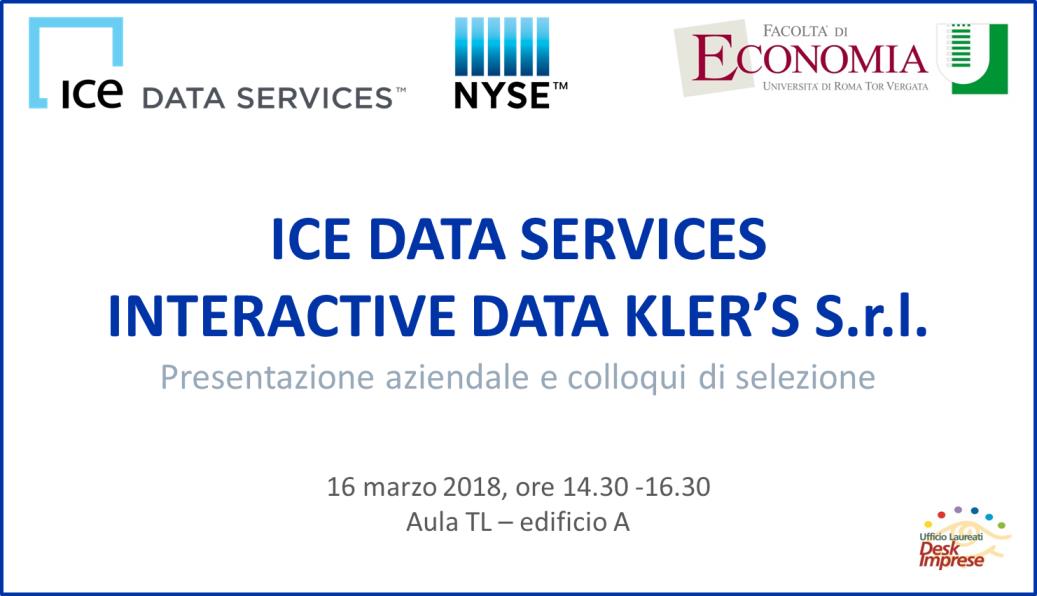 Programma dell'incontro
ore 14.30 - Presentazione Ice Data Services - Interactive Data Kler's
ore 15.00 - Job description e Job requisition
ore 15.15 - Q&A
ore 15.30 /- 16.30 - Colloqui conoscitivi e di selezione
Descrizione
ICE Data Services is a global leader in market data, analytics and connectivity solutions.
We offer proprietary market data from a dozen exchange worldwide, together with indices, fixed-income evaluations and reference data, and we serve the rising demand for more capacity and information with feeds, desktop and connectivity services. Our comprehensive, flexible data solutions provide coverage for global markets across all major asset classes.
Data increasingly powers efficient and modern financial markets. We power the new data generation to drive insights, inform decisions and to optimize results.
PRICING & ANALYTICS
With products such as our end-of-day evaluated pricing, continuous fixed income evaluated pricing, best execution services, and ICE Liquidity IndicatorsTM, we're able to support intraday, real-time decision-making within financial organizations and help link strategic objectives with day-to-day actions.
In Italy Ice Data Services - Interactive Data Kler's provides complete and high quality reference data, among which corporate action and fiscal information on Italian and foreign shares and issuers, with particular coverage of stock markets, listed and unlisted bonds issues, and funds, warrants and derivatives.
Job requisition - Stage Gestione Dati Finanziari
Percorso universitario in discipline economiche
Ottima conoscenza della lingua inglese
Ottima conoscenza del pacchetto Office e di Internet
Costituisce titolo preferenziale la conoscenza di una seconda lingua.
Per candidature inviare il proprio cv all'indirizzo mail hr-rome@theice.com
La giornata sarà rivolta ai laureandi.